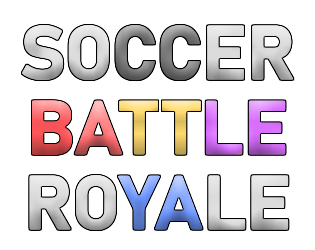 Soccer Battle Royale
Multiplayer is on the way! | Full Game confirmed
---
We are glad to announce the full development of this project.
It will no longer be called Soccer Battle Royale, but since the official development itself has just started, we'll keep updating on this game page, until the time is right to make the next step and announce the final project.
Four Player, Two Player and Spectator Mode
You will be able to play with three more friends, or one friend, on an elimination soccer bout! To win you must survive, but you can brag as well by taking out all of your rivals yourself!

We want to add something similar to achievements or trophies to the game, but we must try to see how that works out.
Also including
Unique character designs.
The ability to steal the ball from the opponent.
Colorblind support.
Fast rotation when you don't have the ball.
Code optimization.
Strength of shots.
Music and SFX.
Improved AI.
By now, there's no plan for
More than four players.
A three player mode. It could come up later if requested.
Online Play.
The development of the prototype itself has come to an end and we'll like to thank everyone that has been playing. We've decided to keep the Android version download for you to get if you'll like to support the project for its next step. Whenever it comes out, we'll find a way to get you a discount or a key to the game.